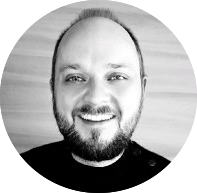 Teaching
Molecular rearrangement & pericyclic reactions in organic chemistry (ECPM – 2nd Year)

Introduction to molecular rearrangements in organic chemistry (M1, Pharmacy school)

Introduction to chirality (graduate school ITI HiFunMat)

NMR in Organic Chemistry (Professional L3) 

Practical courses of organic & analytical chemistry (IUT Robert Schuman & ECPM)
Dr. MORGAN DONNARD
CNRS Senior Researcher

Ph.D.

, 2008 Ecole Nationale Supérieure de Chimie Mulhouse (ENSCMu-UHA),
H.D.R.

 (Habilitation), 2019 
University of Strasbourg
Professor Qualification

(section 32), 2021
---
Bio
After the graduation in 2005 of a Magistère (combined MSc) in Chemistry and Biology at the Louis Pasteur University  (Strasbourg), Morgan Donnard moved to the Ecole Nationale Supérieure de Chimie in Mulhouse (ENSCMu) where he obtained his PhD in organic chemistry in 2008 under the supervision of Pr. Jacques Eustache. His work was mainly focused on olefin metathesis and rearrangement reactions. He then joined the group of Pr. Jonathan Clayden in Manchester as Post-Doctoral Research Associate where he stayed 2 years working on organolithium chemistry applied to asymmetric rearrangement transformations. At the beginning of 2011 he came back to France for a second post-doctoral stay in the team of Dr. Nicolas Blanchard (ENSCMu) where he worked on ynamide cycloaddition reactions. In 2012 he was offered a CNRS Research Associate (Ass. Prof.) position at the university of Strasbourg. First located at the faculty of pharmacy (SOMHet Team) he moved to the Ecole Européenne de Chimie, Polymères et Matériaux (ECPM) in spring 2018 (COHA Team). In fall 2019, he obtained his "Habilitation à Diriger des Recherches (HDR)" and in 2021 his professor qualification.
Research interest
Alkynes & Nitriles linked to heteroatom (ynamides, cyanamides, thiocyanates, silylcyanates, allenamides)
Heterocyclic Chemistry (Si, S, N, O) & Fluorinated Heterocycles
Silicon Methodology in Organic Chemistry
Organometallic Catalysis (Cu, Pd, Rh, Ru, Ni)
Domino and Rearrangement Reactions (involving sp or sp2 carbons directly linked to heteroatoms)
Photo- & Electrochemistry in Organic Chemistry
Catalysis in Continuous Flow

Polar Organometallic Reagents (mainly Li)
Coordination Polymers (synthesis of polytopic ligands involving cyanated heteroatoms)
Scientific communication
37 publications, 5 book chapters, 4 patents, 13 invited conferences/seminars, 24 oral communications, 45 posters
Research groups
Member of GDR SynthFlux (synthesis in continuous flow)

Member of GIS Fluor (French network on fluorine chemistry)
Duties
Elected member of the Organic Chemistry Division (DCO) of the French Chemical Society – DCO-SCF (since 2021) including the management of the "Yves Chauvin" industrial prize
Nominated National Representative at IUPAC Organic & Biomolecular Division (since 2020)
Invited Member of the Comité National de la Chimie (CNC) (since 2020)
Elected member (secretary) of the regional bureau of the French Chemical Society – SCF Alsace

(since 2019)

Board member of the French-Japanese Society of Fine and Medicinal Chemistry (FJS) – (also webmaster of the society website) (since 2009) http://fjs.crihan.fr
Board member of the French American Chemical Society (FACS) – secretary and webmaster (since 2014) http://facs-symposium.unistra.fr/ 
Board Member of the Groupe d'Etude en Chimie Organique (GECO) – Treasurer (2015-2019)
Member of the expert committee (32nd section) (2015-2018)
Member of the scientific committee of the Illkirch Campus Days (2013-2017) – http://jci.sciencesconf.org/
Elected Member of the laboratory Council UMR 7200 (2013-2018)
Reporter for the cahiers bibliographiques de chimie organométallique (2012-2014)
Conference organisation
Organisation Committee Member of 1rst regional French Industrial Chemistry Symposiums (FICS-Grd Est) (Strasbourg, 2023)

Organisation Committee Member of JCO 2022 (Palaiseau)

Organisation Committee Member of 1rst & 2nd French Industrial Chemistry Symposiums (FICS) (Paris, 2020 & 2022)

Organisation Committee Member (treasurer) of GECO 60 (2019 – Obernai), GECO 59 (2018 – Cabourg), GECO 58 (2017 – Dinard) & GECO 57 (2016 –Ascain)   

Organisation Committee Member (secretary) of FACS (French-American Chemical Society Symposium) XIX  (2024 – Paris, France), XVIII  (2022 – Charleston, USA), XVII  (2018 – Orléans, France), FACS XVI (2016 – Santa Barbara, USA) & FACS XV (2014 – Avignon, France)

Organisation Committee Member of FJS 2017, French-Japanese Society (2017 – Strasbourg, France) 

Organisation Committee Member of ISCC 11, International Symposium on Carbanionic Chemistry (2016 – Rouen, France)
Organisation Committee Member of 27th, 33rd, 36th & 39th REGIO-symposium (2007, 2013, 2016 & 2019 Mittelwihr, France) 3 days symposium organized by the universities of Basel (CH), Freiburg im Breisgau (D), Strasbourg (F) & Mulhouse (F).
Organisation Committee Member of Campus Days Illkirch (From 2013 to 2017)